BY FAR, the most stressful thing about having kiddos, in my opinion, is ALL THE THINGS that come with them. Now, notice I did not say the hardest thing about having kids. There are certainly FAR more difficult things than dealing with their stuff, but for me, it is the most stressful. Lots of THINGS stress me out. I have mentioned before that I am a particularly anxious person, but I do NOT like clutter. It sends my mind into overdrive!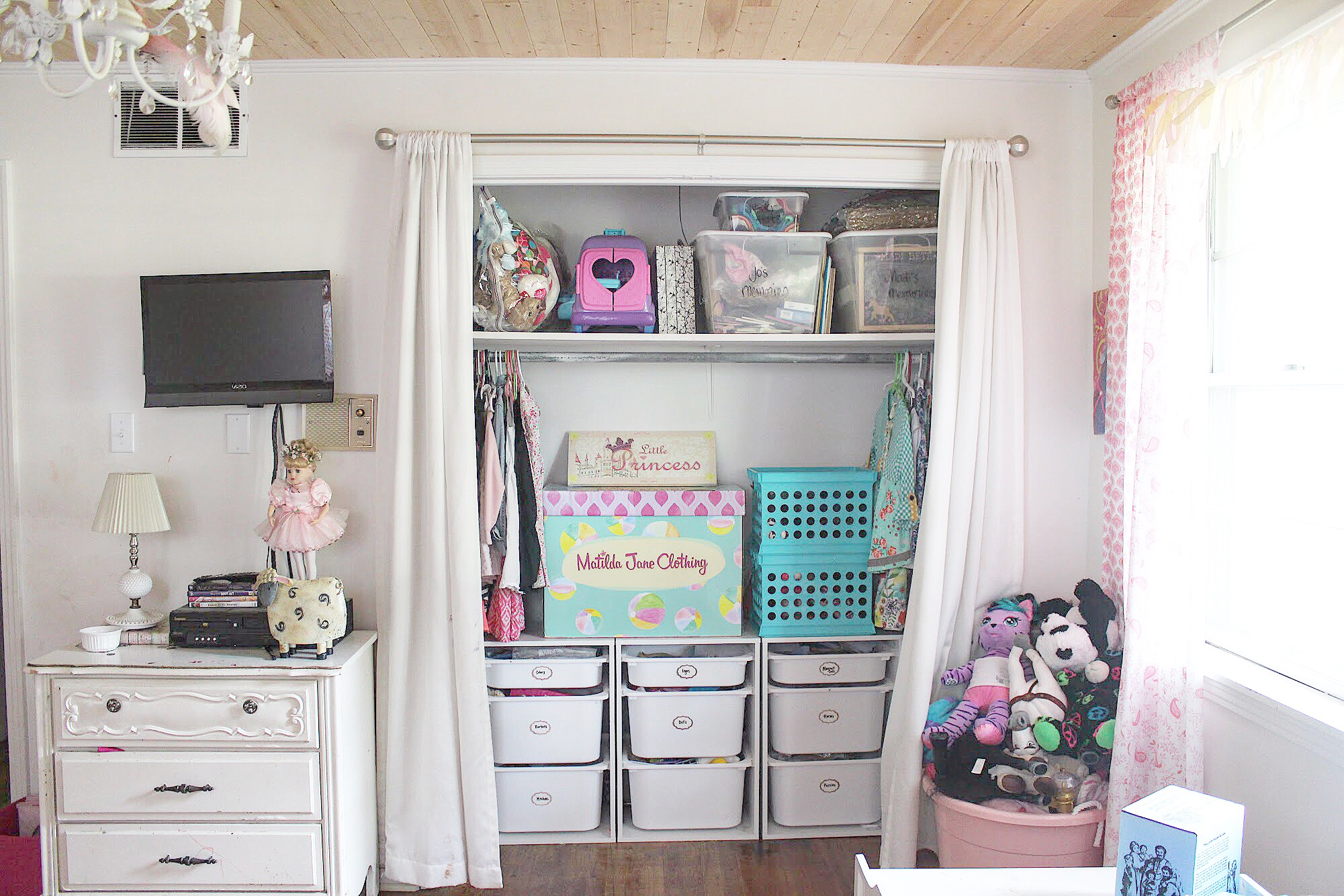 I have been trying for a while to pair down all the things, but it is hard. I am a crazy, sentimental semi-hoarder and it is hard for me to let go of things because I remember where it came from, or the person who gave it to them. Essentially, I remember the memory attached to that sweet little dollar store bunny rabbit that was given to one of my children by that sweet lady who passed away last year. Just an example, but you get my drift.
I am ESPECIALLY attached to baby dolls. It is like they have a soul and I am throwing them away and THEY KNOW… (crazy almost hoarder, I swear).
Then, when you think you are actually doing a good job of purging, one of them has a Birthday or a holiday rolls around. Now, we have recently put in a call to Santa up there at the North Pole and have requested that he limit the items he brings our babes. We have asked that he only bring something they want, something they need, something to wear and something to read. He had no complaints since it will make his job easier and we were appreciative.
For Birthdays, I had begun to ask for clothing instead of gifts, but I have even begun to be much more selective about the clothes they wear. While I am the queen of cheap, I found myself spending way too much on things that I "kind of" liked just because they were on sale or clearance. This left my kids with way too many options that were constantly tearing up and creating additional laundry for me. I now save up and spend a little extra on the front end on brands such as Matilda Jane, which is a much higher quality brand. I absolutely LOVE the clothes I am putting them in now, not to mention I have much less laundry because I have been more selective. If you are interested in the Matilda Jane brand, click to shop here.
I am even open to other ideas for Birthdays such as a dog  adoption party, or requesting that a donation to their savings account be made leau of a gift. This past year, we simply requested gift cards. This allowed me to use them for new clothes, shoes and the occasional trip to Toys R Us. Madi will be 7 in September and we JUST used the last of her cards this week.
Now, the girls share a room. Which means that TWO kids worth of THINGS are all in ONE space, meaning it needed extra amounts of organization. Let me pause right here and say that there are fewer things that I love more, when it comes to organization, than plastic tubs and Space Saver vacuum bags.
Plastic tubs not only designate a place for things to land, it only allows room for so many things to fit. I began by sorting out their smaller toys into these great storage units I found with removable plastic tub drawers. The smaller toys drive me nuts. They were always at the bottom of the box and never got played with for that reason. I mean, you can't pour Legos in with Barbies and expect the kids to pick them out. It is isn't going to happen.
For the stuffed animals and baby dolls, we sorted them into ones that we could let go of and donate, the small ones that could fit into the toy box, the large ones that could go in the big bucket and then the ones that we don't play with, but are very sentimental. That last category of babies found their way into a Space Saver vacuum bag which fit nicely, out of the way at the top of the closet.
At this point, the closet and usable space in their bedroom was basically used up, so I decided to include a small hall closet that is situated right outside their bedroom door. I was already storing my craft supplies and all of our board games in there so I simply added a few more categories. We separated the Coloring Books, paper and Dress Up items into these great crates that I found at WalMart and stacked them in the middle of the Closet of Creativity (I am a nerd, I know…)
Finally, it was time to go through all of the clothes. I do this often. If you follow me on Instagram, you may have seen me talk about Consignment sales. (If you don't follow me on IG, you can find me right here!) Going through the kids clothes often and selling them, either online or at these sales, allows me to pair down, rotate and make a little money for new items. When it comes to sorting clothes, they GO if they are STAINED, have a HOLE in them or are too SMALL.
Once I have made this initial purge, I will go back through and if I don't feel like they wear it often, I put it in the pile to go as well. These ARE their clothes. It doesn't matter if I absolutely love something, they aren't going to wear it if they don't love it too. For example, the big ruffle pants. I LOVE them. The girls will NOT, I mean WILL NOT wear them. They hate them!
Now, do not be fooled, my sweet friends, by the cleanliness of their room. You better believe that it was messy again about an hour after I took these photos. But, at least it has been de-cluttered and organized. For now.
Always,
Tootie